The human brain is tuned to perceive emotions.
In fact, this tuning is so ingrained that we don't even require other people to perceive them! We perceive the expression of emotion and personality in things in our environment, including products, interfaces and websites.
Even though we may consciously know that computers and media aren't animate, don't have feelings and therefore couldn't be expressing emotions, we still respond socially and automatically when viewing, interacting and evaluating them. We unconsciously perceive and interpret emotional expression in things and then form relationships with them based on the personalities we've given them (Reeves & Nass 1998).
When it comes to things that aren't alive, we can think of a personality trait as the long-term expression of a particular emotion.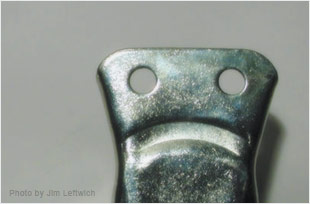 The person who appears sad or sullen is expressing an emotion: sadness. When that same person expresses "sadness" the next 20 times you meet, that person will be viewed as possessing a personality trait: "depressed." Because physical products usually remain the same over time, any emotional expressions are perceived as "personality traits".
Living Objects and Relationships
We perceive the expression of emotion and personality in things in our environment, including products, interfaces, and websites.
People can feel happy or sad, angry or passive, relaxed or anxious, proud or ashamed, and motivated or unmotivated through the use of products. Social interactions with things trigger emotional reactions normally reserved for social interaction with other people. Because of this effect, products should be viewed as "living objects with which people have relationships" (Jordan, 2000, p. 7).
Regardless of whether you intentionally give your product a personality, people will perceive a personality.
Intentionally designing specific personalities requires an understanding of visual and interactive design, as well as specific styles of content creation. It also means that designers need to understand how product/user "relationships" evolve through multiple interactions over time.
Personality and Relationship
Personality traits shape our relationships.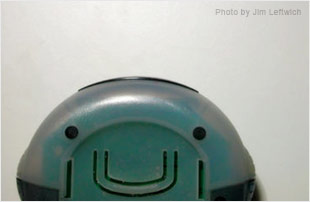 In human relationships, personality traits are an important part of attraction and conversation. They shape our relationships by determining who we like and what we expect. Personality traits also influence how much we trust and get along with others. In this respect, perceived personalities in products and websites are no different.
We tend to purchase products that seem to have personalities similar to our own, or who we aspire to be.
Unlike us, however, product personalities can exist in fictional worlds and be controlled by designers so that they appear at particular times and places. They can often be simpler, more consistent, and more easily identifiable than real personalities, reducing uncertainty and promoting trust (Fogg, 2003).
Unfortunately, when designers fail to consider and design the personality they're communicating, the result can be the opposite.The personality appears to be inconsistent, the user feels betrayed and trust is destroyed. In the end, we tend to purchase products that seem to have personalities similar to our own (Govers & Schoormans, 2005).
Although personality traits are complex, researchers have identified a number of traits that can be related to design.
Psychologists have grouped product personality traits into categories that have a similar character. They've identified two major dimensions of personality that are readily assigned to products, computers and interfaces by users. We explore those in more detail in the book.
The Creation of Meaning
The things we make, buy, and use help us create our existence and form our identities.
The emotions we feel are created in part by the meaning(s) we give to people, brands and things, rather than the people, brands, or things themselves. Meaning is influenced by the personality that we perceive through appearance and interaction. By enabling new behaviors and actions, objects help to shape the existence of the people who use them.
Things that assist us in realizing goals can often be associated with the emotions that result when those goals are achieved. This association imbues these things with meaning. If attention is the energy a person requires to complete tasks and accomplish goals, it's through the investment of attention that we create meaning. By actively cultivating meaning through emotional experiences, we both shape and reflect our larger goals.
Objects can also become personally significant because they cultivate meaning by creating associations through time and experience.
Even though people can derive a wide range of feelings from their interactions with objects, and attribute a wide variety of meanings to those feelings, the physical characteristics of an object often suggest some meanings over others.
Association
We connect how we feel in the moment to the people and things that are in the immediate vicinity.
New people or things can also take on meanings that are based on an individual's previous experiences and associations. Association can be a powerful way to connect the emotions and meaning aroused by one object or situation with another object or situation. We connect how we feel in the moment to the people and things that are in the immediate vicinity.
In addition, when we encounter objects or experiences that are similar to objects and experiences we already have strong associations with, we sometimes experience the emotions we felt previously, albeit at a lower intensity. The natural human tendency to associate feelings with certain events, objects, and people contributes to the "emotional affect" that is an ongoing part of our daily experience.
In some cases, familiarity alone can be enough to create pleasurable emotions.
Simple familiarity and positive or even neutral past experiences mean that an object is known and relatively safe. People, objects, and brands that are unfamiliar are unknown are potentially unpleasant. This vague feeling of discomfort is often enough of a negative response to dissuade many people from trying or approaching a new product.
Responses like this are evident when an existing product or system undergoes a major redesign. Even if the new system is a vast improvement in every way, some users will respond negatively. They may be irritated by the inconvenience of learning a new tool, or simply apprehensive and fearful of change.
By association, the sensory impressions that lead to emotional responses are compared and linked to similar sensory impressions encountered in the past. Whether emotions are aroused by associations with past experiences or by objects in the present moment, the feelings come from the internal representation of the thing, rather than from the thing itself.
Google celebrated the anniversary of Sesame Street and associated their brand with our feelings of childhood nostalgia.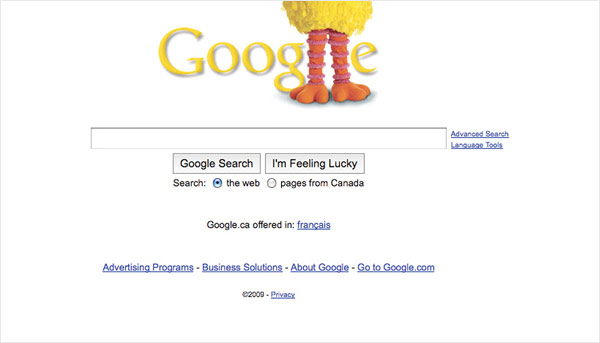 As you'll learn in the book, association is only one tool in the arsenal of persuasive methods used by designers and marketers to communicate emotion and personality. Through positive and negative associations, these professionals attempt to arouse feelings that nudge you into giving their product a certain meaning and behaving in a certain way.
Products, websites, and software applications trigger complex social and emotional responses that are no different from the emotional responses we experience when we interact with real people (Desmet, 2002). The emotions we feel allow us to assign meanings to the people and things that we experience in life, ultimately influencing the relationships we form (Jordan, 2000).
| back to top |
Category: Chapter 1 Excerpts