The focus of attention determines which experiences enter consciousness and which ones do not.
Attention is also required to make other mental events happen, such as thinking, feeling, remembering and making decisions. It is for this reason that attention has been called "psychic energy" (Csikszentmihalyi, 1990). Like energy in the traditional sense, "without it, no work can be done and through work, that energy is dissipated" (Csikszentmihalyi, 1990, p. 33).
Emotion commands attention and affects memory.
Attention makes work possible by selecting the pieces of information that are considered relevant from the vast amount of information that is available to our senses. We then compare those pieces of information to other information patterns stored in memory.
Information enters consciousness either because it is our intention to focus our attention on it or because our attention is commanded due to perceived emotional, biological, or social needs (Csikszentmihalyi, 1990).
In Seattle Children's Hospital, a large whale sculpture helps direct children's attention away from the environment of the hospital.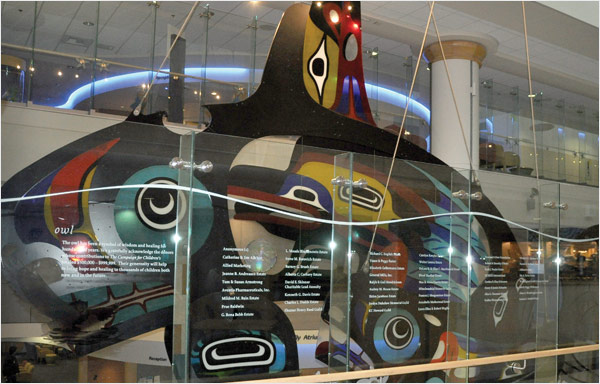 The intensity of emotional experience has been linked with the strength and clarity of memories before, during, and after emotional events (Reeves & Nass, 1998). This link is quite natural when you think about it, because without attention, information doesn't get into our brains in the first place. In discussing the power of stories, Peter Guber puts it succinctly: "emotion bonded with information becomes memorable, resonant and actionable" (Power of Stories, 2011).
We don't assign equal weight to negative and positive experiences. Negative experiences tend to demand much more attention than positive experiences.
Research has shown that negative experiences tend to demand much more attention and therefore hold much more psychological weight than positive experiences, which results in stronger memories of negative experiences, along with weaker memories of what came afterwards.
Emotional experiences also affect the memory of events that occur immediately before them. Individuals have impaired memory of events that occur right before negative experiences when compared to memories of events that occur right before positive experiences (Reeves & Nass, 1998).
Using negative emotion to increase the strength of a memory may seem useful, but, commanding attention in this way can have unintended consequences.
Although attention is demanded by negative experiences, it may be drawn to some unintended aspect of those experiences. For example, a negative visual image may demand more attention than the textual message that was actually meant to be the focus.
In software, unpleasant error messages can cause people to remember and focus on negative experiences over positive ones, potentially distorting how they think and feel about the application.
Multisensory Experiences
Emotional design is about directing the user's attention to the right thing, at the right time.
By creating powerful, multisensory emotional experiences, brands can demand user attention and embed strong memories of their product or service in consumers' minds. This produces changes in purchasing behavior and contributes to brand loyalty.
Many adults in North America have strong memories of being taken to McDonald's as children.
McDonald's uses a multisensory approach to make potential customers familiar with their products. Colorful commercial advertising, busy store locations, the special scent and taste of the food, the ubiquitous brand identity, and the toys all combine to create positive memories for children. Through association, the children have been conditioned by these early experiences to desire McDonald's products.
These emotional responses help to form a bond through the creation of experiences that become stories and memories.
Whether you're designing a product, a website, a software application, or even an environment, emotional design is often about directing the user's attention to the right thing at the right time to create an emotional response.
Understanding the importance of attention (and how emotion commands it) will allow you to use design elements to shift the user's focus in the right way at the right time.
| back to top |
next – 5. Emotion Communicates Personality, Forms Relationships and Creates Meaning 
Category: Chapter 1 Excerpts